The most popular treatments in clinic are Anti Wrinkle Injections and Dermal Fillers.
Botox is the most commonly known brand of botulinum toxin, which relaxes the muscles that cause lines and wrinkles. Other brands include Azzalure and Bocoture.
Here are the most common areas to be treated, I can also treat excessive sweating (hyperhidrosis) of the armpits and hands.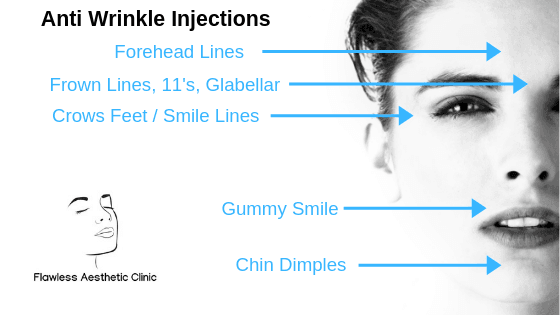 Dermal Fillers
Dermal fillers are injections used to fill out wrinkles and creases in the skin. They can also be used to increase the volume and definition of the lips and cheeks.
Other Treatments include:
Chemical Peels
Menopause Clinic
LED Mask
Skin Tag and Thread Vein Removal
Prescription facials and skincare advice
Alternative Health Essential Oil Consultations
For a consultation to discuss any of the above book here.
Click here for the latest prices or sign up to my newsletter.